A Guide: How to Create Snowrunner Mods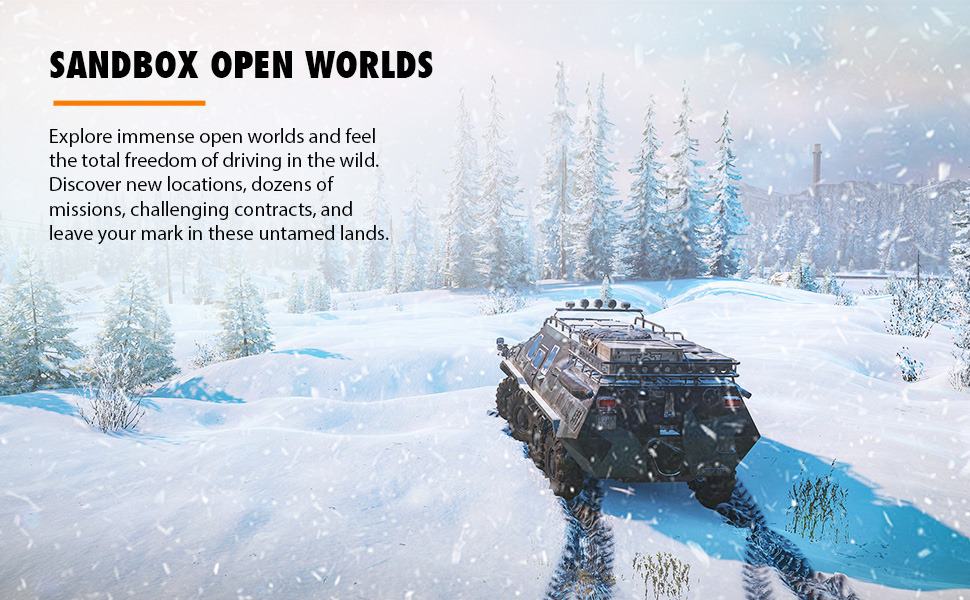 A Guide: How to Create Snowrunner Mods
Snowrunner game is an extraordinary game that gives us unforgettable moments. But Snowrunner mods are something unexplainable. Everyone who plays this game knows what a big treasure the mods are. However, sometimes we cannot find the mod we're looking for and at that very moment at least for a second, we all think how it would be cool to know how to create Snowrunner mods on our own.
Snowrunner Guide How to start Modding
Happily, you can easily create Snowrunner mods on your own. As the game is already released, all you need is to have your Steam account. If you want to know all the details on how to create these mods and fulfill all of your wishes, in this article you'll find detailed instructions on how to do that. You're more than welcome to read along and learn something completely new. Don't forget mods for Snowrunner you can find and download here: Snowrunner mods
To begin with, once again it's important to mention that if you want to create mods, you must have a steam account. Everything is being done using Steam Workshop editor tool. So if you haven't got one yet, simply download it below and start creating your own mods. Also, you have an opportunity to download the detailed modding guide. So if you need more information, feel free to take it. Neither editor tool nor guide is payable. So you can download everything for free.
Now let's get back to our topic. In this article, we're going to find out what are the specifications of mods editor, how to create mods and what the most common issues are. Hope you're feeling excited because now we're going to learn some really cool stuff.
Specifications of Snowrunner Mods Editor
The editor allows you to create new and add existing vehicle mods.
You can transform vehicles and maps mods of Spintire into Snowrunner mods.
You can amend maps mods.
A player can use modified mods exactly how it is in Spintires.
Sample mods available: 2
Samples maps: 1
3dsmax plugin is available for distribution.
How to Create Snowrunner mods using editor tool
Firstly go to Steam library – then tools. Here you'll be able to access Snowrunner Editor Beta.
While using editor a player gets permission to numerous functions. The steam workshop gives access to view, edit, convert and upload chosen mods.
In the workshop, you can see all the mods.
Button of managing mods appears when you're on the multiplayer
Here you can see all the existing mods and start the game. If you won't have a particular mod in the joint party, you'll see the notice which will tell you to add the mode to your game.
For more information about creating Snowrunner mods please download the complete modding guide or visit our forum.
Most common issues creating Snowrunner mods
It is extremely important to mention that you should always do a back-up of your mods. Moreover, it should be kept in a different Steam folder to keep these mods completely safe.
Keep in mind that there are some existing mods problems, which are going to be solved out shortly.
Some mods may do damage to the game so there's a chance that a game can crash at the very beginning.
Do not update mods while the game is running because mods may not function well.
Important for those who're playing in multiplayer mode! Some add-ons of not installed mods can cause a crash of the game.
Even though these are the basics we hope that you've learned a lot. All the modding process may seem extremely difficult before you try for the first time. But afterward, everything will become way easier. Just don't be afraid to try and to be wrong because every mistake teaches us something new.
If you want more detailed information of how to create Snowrunner mods, feel free to download our modding guide. It's absolutely free and there you'll find all the necessary comprehensive information for beginners. After you'll read this tutorial you'll be completely ready to create your very first mod.
We hope that our introduction was comprehensive and helpful for you but you can always interact with our community members and learn many great things. So if are interted in creating Snowrunner mods, please follow this tutorial Create Snowrunner mods. Now it's your turn to show that you've got some skills. Download the modding guide and editor tool completely for free and start creating your own mods. Who knows, maybe one day you'll create something really special and become a legend of the Snowrunner community.